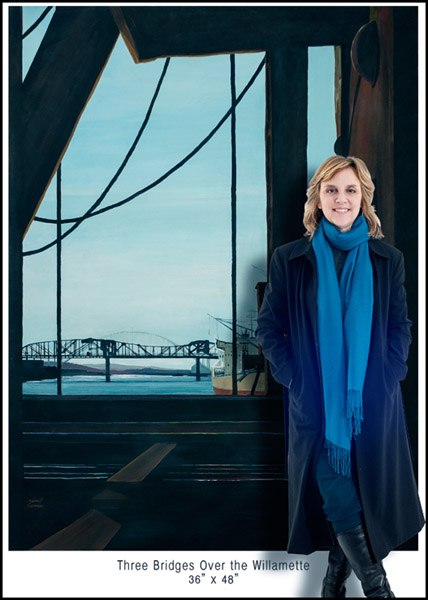 Karrol Combs creates acrylic paintings of the fantastic views of Kansas City, Portland and the Pacific coast. The primary goal of the cityscapes is to show the interesting juxtaposition of the new and old buildings in a realistic manner that allows the viewer to appreciate the beauty of the structures. Season, time of day, color, atmosphere and texture are emphasized in all of her work. Custom city views or landscapes can be ordered.
Karrol also paints dogs, cats, horses and other pets for animal rescue charities, veterinary clinics and individuals. Her colorful style captures the warmth and character of the subject with a unique palette. She specializes in commissioned portraits of favorite pets in a warm, contemporary style.
She exhibits with Arts KC in Kansas City, MO with shows at Seyforth, Blumenthal and Harris Law Firm, Truman Medical Center and The Kansas City Metropolitan Bar Association. She also opened exhibits at Silk Road Travelers, The McKellar Group and Cellar and Loft in Kansas City. Her pet portraits are displayed at Summit Pet Care in Lee's Summit, MO, Eye Care for Animals in Phoenix, AZ and Western Veterinary Hospital in Calgary, AB.
Karrol was born in 1951 and was raised in Lexington, Kentucky. She graduated with a Bachelor of Art from Eastern Kentucky University. Beginning in 1976 she taught Art at Cleveland High School in Cleveland, Oklahoma, then Keystone School in Sand Springs, Oklahoma, and in the Sand Springs Public Schools in Sand Springs, Oklahoma. She retired in 2006 and moved to Kansas City, Missouri. She now lives in downtown loft with her husband David. They have two children and a border collie.
If interested in ordering a custom city view or pet art portrait feel free to give Karrol a call or email and she'll set up the whole process completely pain free. It's as easy as mailing a photo!
816-582-1429
karrol.combs@me.com